In the past four years, I've lived in three different countries. During that time, I've also managed a remote team spread out across three continents.
Some of my team worked from an office, while others were completely remote. The same goes for me. I've worked full time from an office in Dublin and also Boston, and I'm now fully remote working from London.
Add to this that I co-founded a company with two people, neither of which live in the same country as me. I'd never actually met one of my co-founders in person until we'd owned a business together for six months, so it's fair to say that I'm well acquainted with a remote working environment.
In this article, I'm going to share some of the things I've learned from my time as a remote leader over the past few years. You'll be able to apply some of this directly to your own situation, while other parts of my experience might be less relevant to your situation. This is all part of the nuance of both leadership and remote working.
The different approaches to remote work
Every company takes a slightly different approach to remote work. While the prospect of allowing your employees to work from anywhere can terrify some companies, others have fully embraced it and have completely ditched the need for any office locations altogether. The likes of InVision, Zapier, and Automattic are just a few examples of the growing number of companies that operate completely remotely. It's not all or nothing, though. Trello, Basecamp, and HubSpot (where I work) all have a hybrid remote setup where some of their employees work remotely, while others work from one of their offices.
Each of the various remote work setups comes with its own advantages and disadvantages, and they also require a fair amount of adaptability when it comes to how you'll manage your team.
For example, having a completely distributed team means that everyone is bought into the remote working culture, which means they'll naturally have empathy for one another and understand the challenges that come with remote working. It's also much more likely that your company is set up to facilitate remote working more effectively.
That said, having a completely distributed team can make it very difficult for team members to get to know each other on a personal level. There are often much more scheduling issues when there are multiple time zones to account for, and organizing in-person meet-ups can be particularly tricky if your team is spread out across the globe.
Organizing in-person meetups is typically a little easier if you have at least one office, because you can pick one central location – often where most of your in-office team are based – and coordinate travel there.
Having an office means that you can have new remote employees come in and meet everyone during their onboarding, giving them a way to form bonds with the team early on.
The downside of this model is that remote workers can feel like they're missing out on exposure to management that in-office employees get, which could lead to them missing out on potential opportunities to grow within the company. In-office workers can also feel like they're given less flexibility than their remote co-workers. These are all challenges that a remote leader has to address.
Encouraging empathy within your team
Important
One of the best ways to develop empathy for your team – and help them develop empathy for each other, too – is to expose yourself to a new working environment. I'm not talking about taking on a new job – I'm talking about putting yourself in the shoes of your remote workers.
If you haven't worked remotely before, it's tough to truly understand the challenges that come with working remotely and the things they need from you as a manager.
One interesting experiment that I ran with my team, which is roughly a 50/50 split of fully remote and office-based individuals, was to stage a "remote week". This involved everyone going completely remote for the week to experience the issues remote employees face each day.
This not only helps your whole team develop more empathy for each other, but it really pushes the boundaries of your technology stack, surfacing issues that you might not have noticed until you reach a certain scale (video conferencing software is one that comes to mind).
If you plan on doing a remote week with your team, I'd recommend putting the following guardrails in place:
None of the team are allowed to come into the office for the week.
Each team member will be given a small budget that can be used to cover expenses for things like WiFi, co-working spaces, travel to a new location, etc.
Everyone on the team needs to be available for meetings within a 3-hour time-window (if everyone is in the same time zone you could increase this to 5 hours).
All existing meetings need to be kept in the calendar, and it's encouraged that team members try to maintain the exact meeting schedule they would if they were in the office.
Each team member fills out a small journal entry at the end of the day to document how the day went, any challenges they faced, any deviations from their regular schedule that they implemented, and any ideas for how things could be improved.
Remember that working from home isn't always possible for everyone, so you need to ensure you give people the ability to find other options during this week that won't leave them out of pocket.
Communicate clear working guardrails for your team to follow
If you haven't worked remotely before, I wouldn't hold it against you if you have an image of someone sitting on a beach, sipping cocktails while they complete their two hours of daily work before heading onto a flight to another exotic location.
Well, the reality is often very different.
WiFi challenges, scrambling to find a quiet place to work from, late-night meetings or painfully early starts, your dog thinking it's a never-ending playtime when you're trying to get things done – these are just a few of the daily realities.
Few things demonstrate this perception better than a search through stock images of remote work, as was highlighted in this tweet from my colleague and friend, Kieran Flanagan.
Remote workers can often feel a lack of trust from their manager or company simply because they're not in the office (those stereotypes of remote working don't help here).
Working guardrails are not there to police whether your team is actually working; they're there to create a predictable and stable working environment where both parties are able to operate with flexibility without compromising performance.
Many remote workers like to work remotely because it gives them flexibility to fit their job work around their life (instead of the other way around). Flexible working hours are great for this, but they can also have a negative impact if managers expect flexible working to mean that their team members should be available 24/7.
Guardrails are for you and your team.
Some guardrails that I find useful to put in place include:
Ensure that there's an overlap of at least 2 hours where your whole team is working and available for meetings. The more timezones you operate across, the tougher this is, but knowing that there is a common time for quick chats and meetings gives everyone comfort that they'll be able to reach you and one-another if they need to.
Communicate expected response times by communication channel. For example, you could let your team know that if they email you, they'll get a response within 24 hours. If they Slack you, they will have a 4 hour response time. If they book a Zoom meeting in your calendar within the office hours times, you'll be there within 10 minutes of notice.
Set recurring meetings with each of your direct reports and overall team. Recurring meetings ensure that your team always has a space to discuss issues with you. Without these in place, you'll find that issues are more likely not to be addressed until they become a serious problem. I set weekly one-to-ones with my direct reports, a weekly team meeting, a monthly career catchup with direct reports, and a monthly check-in with indirect reports. Do what works best for you and your team.
Any major changes in location should be communicated and agreed upon beforehand. Just because you work remote, it doesn't necessarily mean you can just fly off to any country and work from there. Timezones and lack of good WiFi can put a strain on your work. Also, if others know where you are, they can better tailor meeting times to suit you.
Any holidays should be added to a shared calendar. This is a simple one but it lets everyone know where you'll be and when. I'm also a fan of utilizing the Slack status feature to let people know if I'm out of office or tied up in a personal appointment.
Over-communicate and be responsive. This can feel counterintuitive but over-communication is particularly important in the earlier days of you operating as a remote leader. Even if you don't have the solution to a problem, a quick response to let the team know you're looking into it and they can expect a response by X date and time will dramatically improve communication and ensure that everyone feels listened to.
Practice what you preach and take employee wellbeing seriously
If you're a remote manager that works flexible hours, your team can sometimes feel like you're always working. This is because they get emails and Slack messages from you at all hours of the day, while some days you're taking meetings at 7am and others you're taking them at 9pm.
The reality might be that some days you work a 7am-5pm because you've carved out family time in the evenings, whereas on others you work 12pm-9pm because you like to do an early gym session and walk the dog on those days.
That's not what your team sees though… they just see you being online and taking meetings all the time.
That's not bad though, right? They take comfort in the fact you're always around, surely?
Not in my experience. Instead, this makes them feel like they also need to be working long, unrealistic hours and respond to emails and messages at all hours. This is both unsustainable and unfair.
One way you can mitigate this is by sharing your working hours with your team ahead of time, and then keeping your calendar up-to-date with slots allocated for your personal time.
Personally, I add all of my personal appointments to my calendar for my team to see that I am in fact not working during the times I've said to help normalize taking personal time. For example, I'll include "Walking the dog" or "Family time" in my calendar. Here's a snapshot of a random week in my calendar (which is visible to anyone in my company):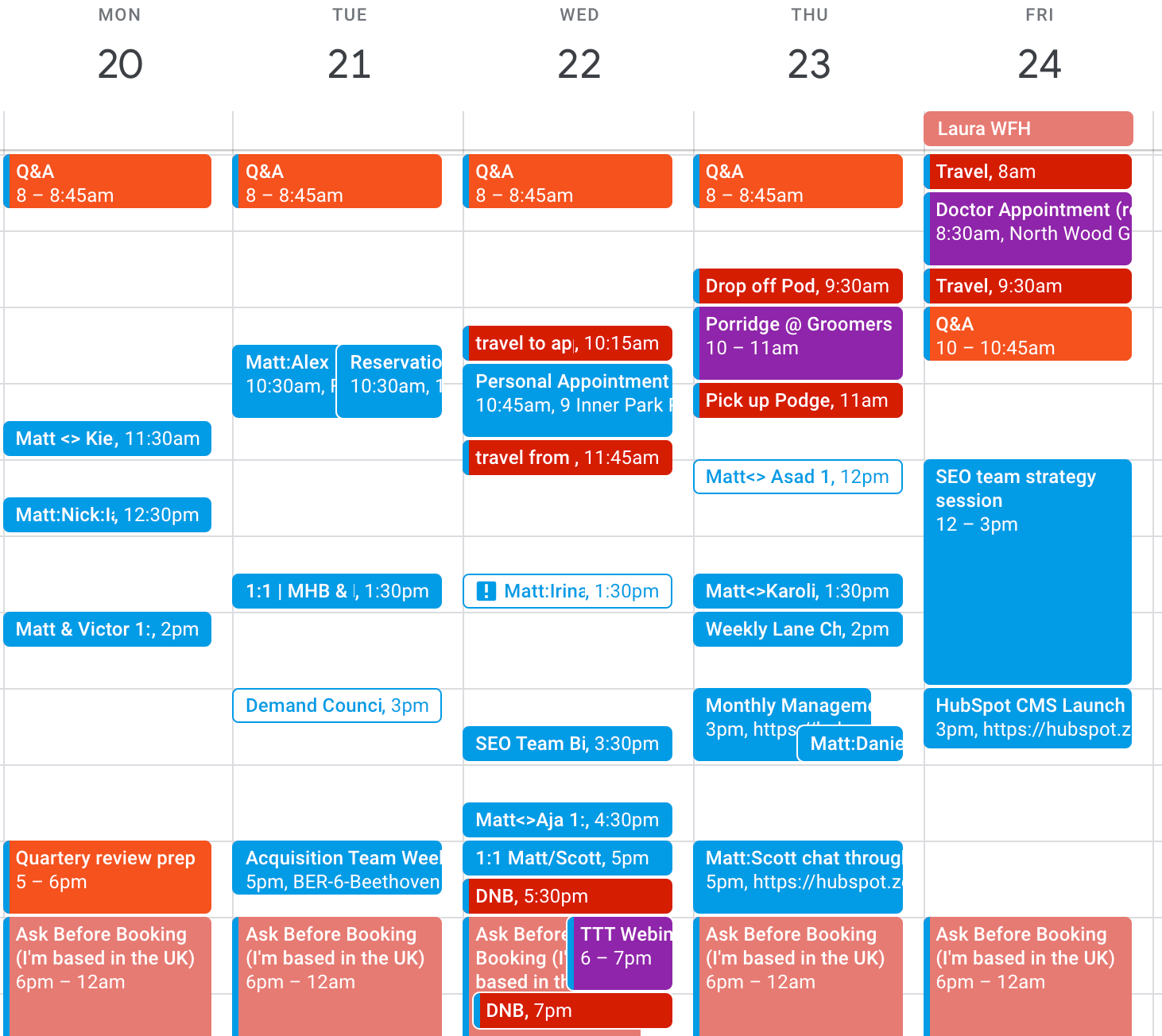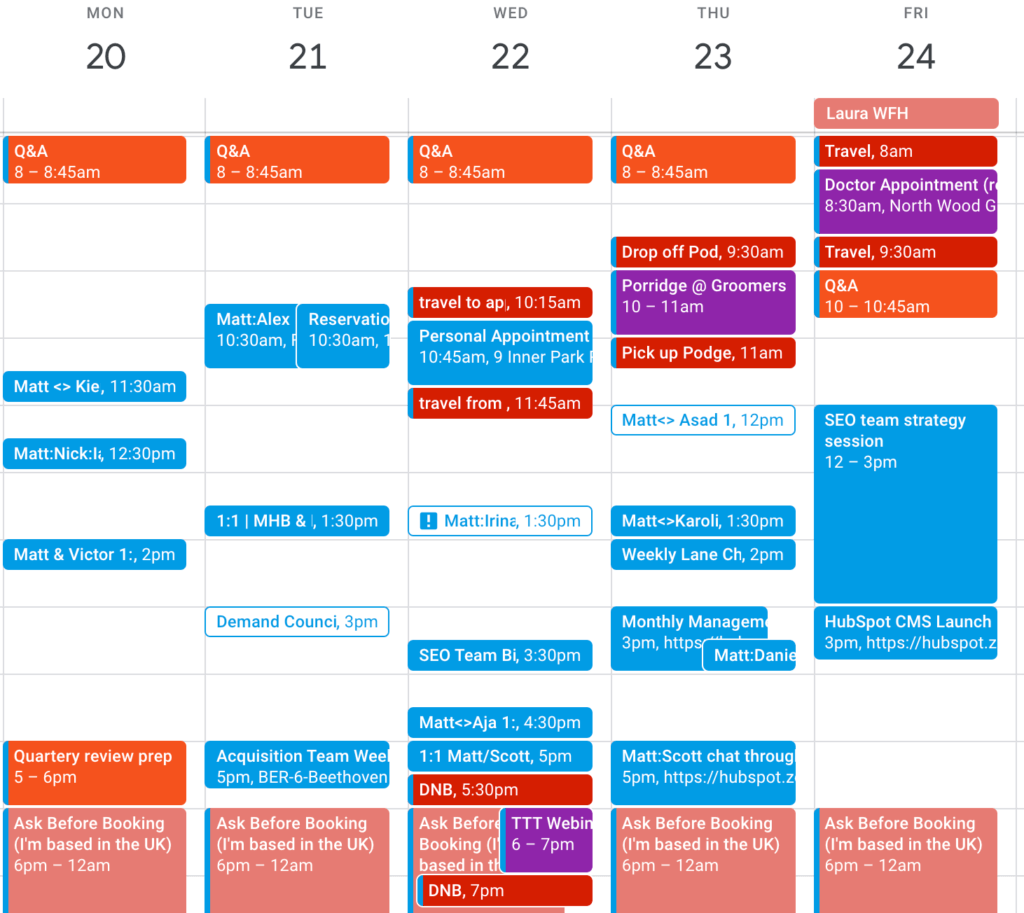 (Porridge is my dog, in case you were wondering what that meant!)
A lot of people get hung up on this, stating that they don't want their team to know everything that they do outside of work. That's absolutely fine. You could just simply block out time labeled as "Personal Time" or "Not Working" to achieve the same outcome.
Another thing that you'll see from my calendar is that I add a block in my calendar every day between 6pm-12am that simply says, "Ask before booking – I'm based in the UK". This is one of the most effective things I've done to ensure people wouldn't book me at crazy times without asking me first, and I'd highly recommend this if you work with people in very different time zones to you.
Alongside your availability and working hours, you also need to consider response times…
There are few things more anxiety-inducing for your team members than waking up to 20 Slack messages and ten emails from you. I was guilty of this for a long time because one thing I found useful was to go through some final emails and Slack messages before I went to sleep. It was part of my routine and it worked for me. The outcome for my team was that they felt like I was sending loads of urgent requests that people would wake up to every day.
To fix this, I didn't change my routine, I simply scheduled all of the emails I was about to send to go out during my team's working hours. I also saved Slack messages and sent them in the morning. This small change made a huge difference.
There's no substitute for meeting in person
Bonding is a key part of building a strong team and comes a lot more naturally when you can meet in person. Whether this is in the form of a company-wide offsite or a team offsite, it's important to try to enable these kinds of meetings.
I run an offsite with my team once or twice a year, and we also have a wider company onsite where everyone travels to HQ.
The team-level offsites are incredibly valuable, as they're the perfect opportunity to run longer, deeper strategy sessions (this can be tricky to do when everyone is remote).
It's also a great opportunity to plan activities you can bond over as a team. Last year my team and I did a VR escape room, which was both hilarious and awesome.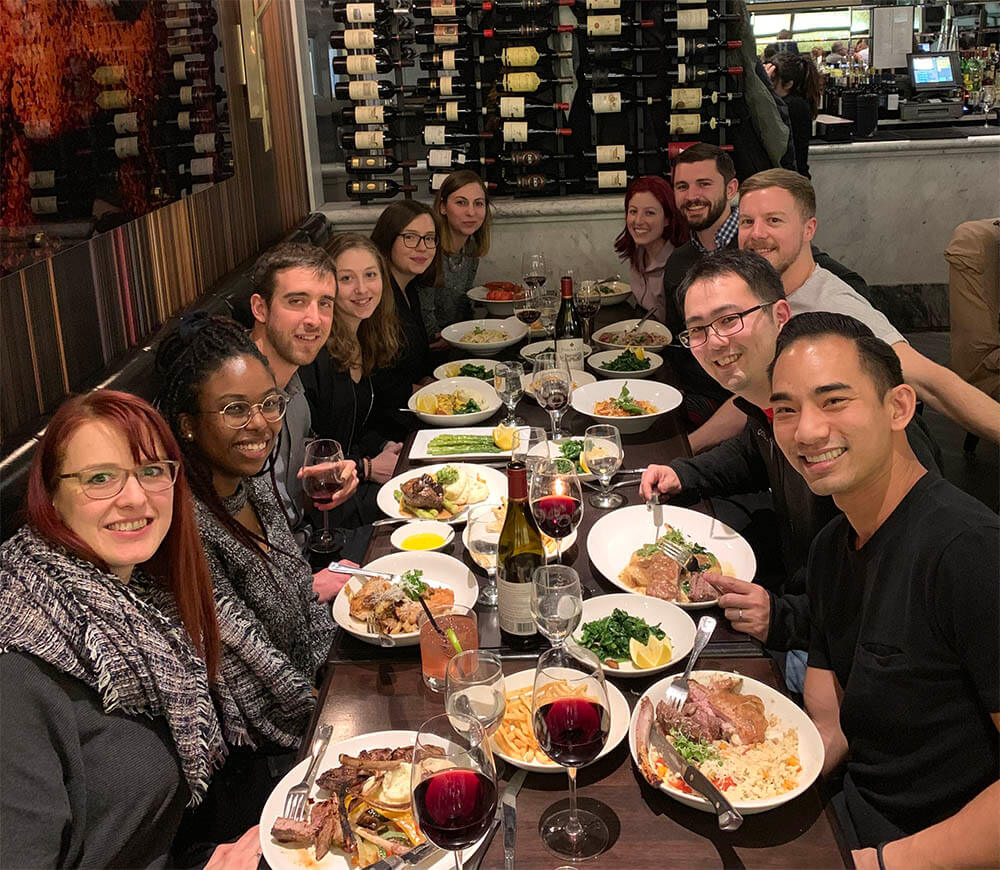 Me and some of the team hanging out after an offsite.
That being said, sometimes it isn't viable for some of your team to attend an offsite. So try and be respectful and inclusive when you plan your meet-ups. Travel isn't always feasible for some people – if they have young children, disabilities, get anxiety from flying, or a whole host of other reasons.
With this in mind, make sure that there's always a way for remote individuals to participate in an in-person meetup. You can even FaceTime them in for some of the social activities.
There are plenty of opportunities for you and your team to bond remotely, too. Last year my team and I did a remote gift unwrapping and a team quiz right before the holidays last year and it was great.
It's also important to be aware that remote workers don't get the usual opportunities to meet other people within the company – especially if you're a large organization. This can leave them feeling isolated, so it's crucial that you give them the opportunity to build connections with the wider team so they feel part of things.
One great way to do this is through an app like Donut, which pairs random people within your company up with each other for a video chat so they can get to know each other. We use this at both HubSpot and Traffic Think Tank.
Final thoughts.
Remote work isn't for everyone, but it's only growing in popularity. The search term "remote jobs" is searched for over 100,000 times every month in the US alone, and Google Trends shows the dramatic spike in interest that there's been in the past 12 months.


As a people manager, your role in creating a positive environment for your fellow remote team members is particularly important. Balancing the adoption of remote work within your organization while avoiding neglecting or isolating those working from an office is one of the biggest challenges you'll have to overcome.
My overarching advice is to focus on building a working environment that is flexible and can accommodate a range of different preferences. This starts with building trust. Trust works both ways, too…
Speak to other remote leaders at different companies, find what's worked well for them and adapt it for your own team. At the same time, learn from their mistakes before you make them yourself. It takes time and flexibility on your part, but it's all worth it in the end.