I'd like to take you on a quick journey back to the year 1998.
A number of important things happened during 1998. Will Smith released, "Gettin Jiggy Wit It", Jackie Chan and Chris Tucker starred in the first Rush Hour movie, and a little-known startup called Google was officially incorporated as a company.
Back then, Google neither looked nor operated as sophisticatedly as it does now. Every results page looked similar, there were no images or videos being displayed and you'd probably have to search a few different queries to truly find what you were looking for. Alta Vista was ruling the roost at the time, with over 80 million hits per day and by far the largest index of webpages of any other search engine.
On top of all this, the natural habit of performing a transaction online hadn't quite taken off with consumers at scale yet. There were only 147 million people online at this point – compared to around 3.7 billion in March 2017 (source) – and even Amazon only generated a total of $610 million in annual sales (source) vs over $135 billion in 2016 (source).
I mean, this was a time when Blockbuster video stores reigned supreme. That says it all.
The fact that Amazon was even making a fraction of what they were at this time is a true testament to their early innovation online. Bear in mind that the average internet speed was 56kps, so you really had to have a lot of patience to put up with the painfully slow web experience. Just to put that speed into perspective, if you were to download Will Smith's "Getting Jiggy Wit It" MP3 back then, it would take around 15 minutes to complete. Now, try downloading the Rush Hour movie and it'd be closer to 45 days… not exactly ready for 4K streaming from Netflix.
This brings me to the first important point that I want to make:
Technology is only as effective as its lowest performing dependency.
You've probably thought to yourself at one time or another, "If I could go back in time 20 years, I'd just invent Snapchat (or some other popular app) and become a billionaire."
Here's the thing… attempting to launch something like Snapchat 20 years ago would've got you nowhere. So many great ideas have come along and died a quick death because of the fact that the underlying tech infrastructure wasn't at a stage that could benefit the end consumer.
Here are a few examples:
Smartphones: without advances in wireless and cellular broadband speeds, smartphones would be useless. None of your apps could connect to the internet, so you'd basically just have a much more expensive Game Boy. Nokia already showed us what happens with ideas like that when they launched their N-Gage product.
Alexa/Google Home/Siri: the huge strides forward in the development of natural language processing have enabled Amazon, Google, Apple and many more to provide voice assistant products that genuinely deliver a good experience to consumers (most of the time). There's still a long way to go, but without upgrades in NLP, you'd have a whole lot more of the, "Sorry, I didn't understand the question."
Snapchat: a lot of people are divided over the long-term viability of Snapchat's business model, but one thing that everyone can agree on is that without innovation in mobile camera technology, Snapchat wouldn't be able to exist.
eBay: PayPal's work in disrupting the online payment processing space has been widely cited as one of the most important factors contributing to eBay's early success. Sellers and buyers need a safe and simple way to manage payments within eBay's platform – without it, there would have been too much friction for them to scale.
There are hundreds of more examples that could be cited here. One huge example of a product too ahead of its time was Microsoft's Tablet PC that they launched back in 2001. The surrounding dependencies of tech weren't at the level that Microsoft needed, amongst a number of other reasons, which meant the product ultimately failed. Fast-forward to 2010 and Apple launch the iPad. The rest is history.
The Era of Instantaneous Access
In October of 2016, global internet usage via mobile devices surpassed that of desktop for the first time in history.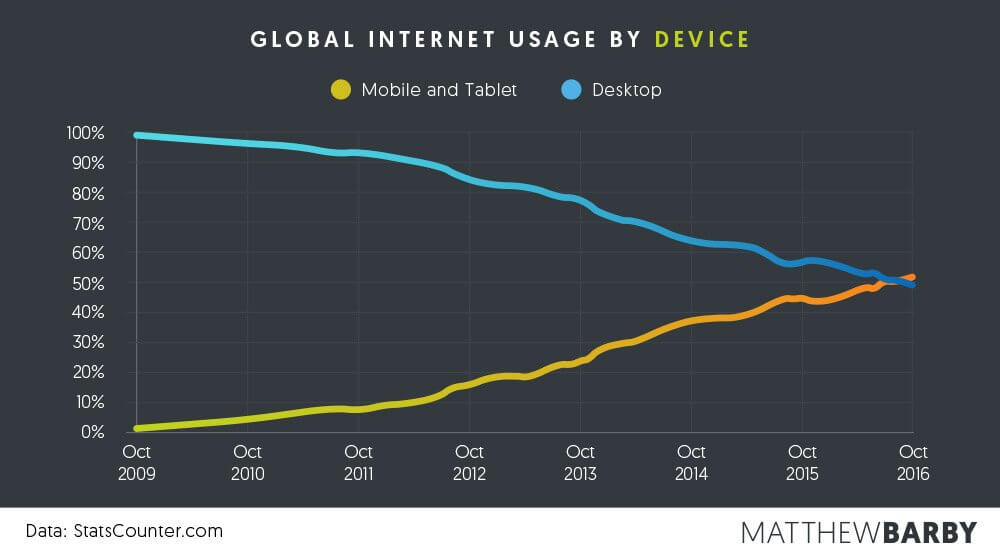 This was a major milestone in a landscape that had been shifting dramatically since 2013. Increased mobile device usage paved the way for an influx in services that focused heavily on reducing the time to value for consumers.
Netflix turned the DVD industry on its head by giving customers instant access to a plethora of new films and TV shows that could be streamed directly from their app – all for a monthly cost cheaper than your average cinema ticket. By the end of 2016, they had just under 100 million paying customers.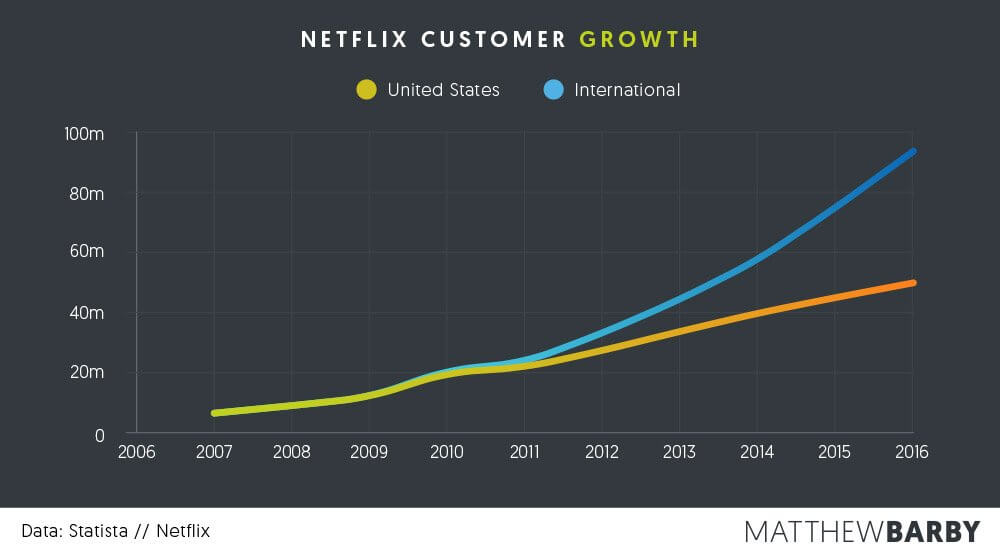 Following in Netflix's footsteps, Spotify gave everyone a reason to ditch their audio CDs and even say goodbye to bulky MP3 files. Using a similar subscription model, their 50 million (at the time of writing) customers now benefit from instant playback of over 30 million different songs without the need for any extra storage space on your mobile device. Oh, and just to put this in perspective, that'd be around 105 terabytes of storage, costing just under $1,050 in Apple iCloud storage per month.
Demand for immediate access to extensive libraries of video and audio has been around for some time. This is perfectly illustrated by the infamous launch of Napster, which accrued over 80 million registered users by 2001. The key thing to understand about the early success of Napster is that whilst everything being 'free' was a huge bonus, it was really the ability to download music there and then, with an almost limitless selection, that was its main benefit to consumers. Not only could you get the latest album you wanted from your favorite band without having to take a walk down to the record store, but you could also download bootleg MP3 and limited release albums that weren't even available to purchase.
But it's not just our entertainment needs that need to deliver instantaneously…
Amazon has revolutionized the shipping industry, offering customers next-day delivery on huge portions of their product range via their Prime service. They've even taken this a step further with their Prime Air service, which promises 1-hour delivery performed by their delivery drones. Yet that's not the only incredible thing about Amazon right now. Did you know that 70% of all sales made through Amazon are completed via their mobile app? On top of that, 90% of consumers in the US say that even when they've found a product on a retailer's website, they still check Amazon. That's the perfect example of the moat that Amazon has built through offering customers instant access.
Instacart, which has just secured $400 million in its latest round of funding, is disrupting the on-demand grocery delivery market. They offer 2-hour delivery on groceries from your local grocery stores, meaning you can avoid having to face the queues in-store and avoid the journey altogether for a small delivery fee. They're going head-to-head with Amazon's 'Fresh' delivery service, and in the light of Amazon's $13.7 billion acquisition of Whole Foods, this space is about to get a lot more interesting.
Google has picked up on the consumer need for instant access and has responded by making a number of major changes to their search results. One of those is Featured Snippets, the sections within the search results page that show instant answers to a range of different queries.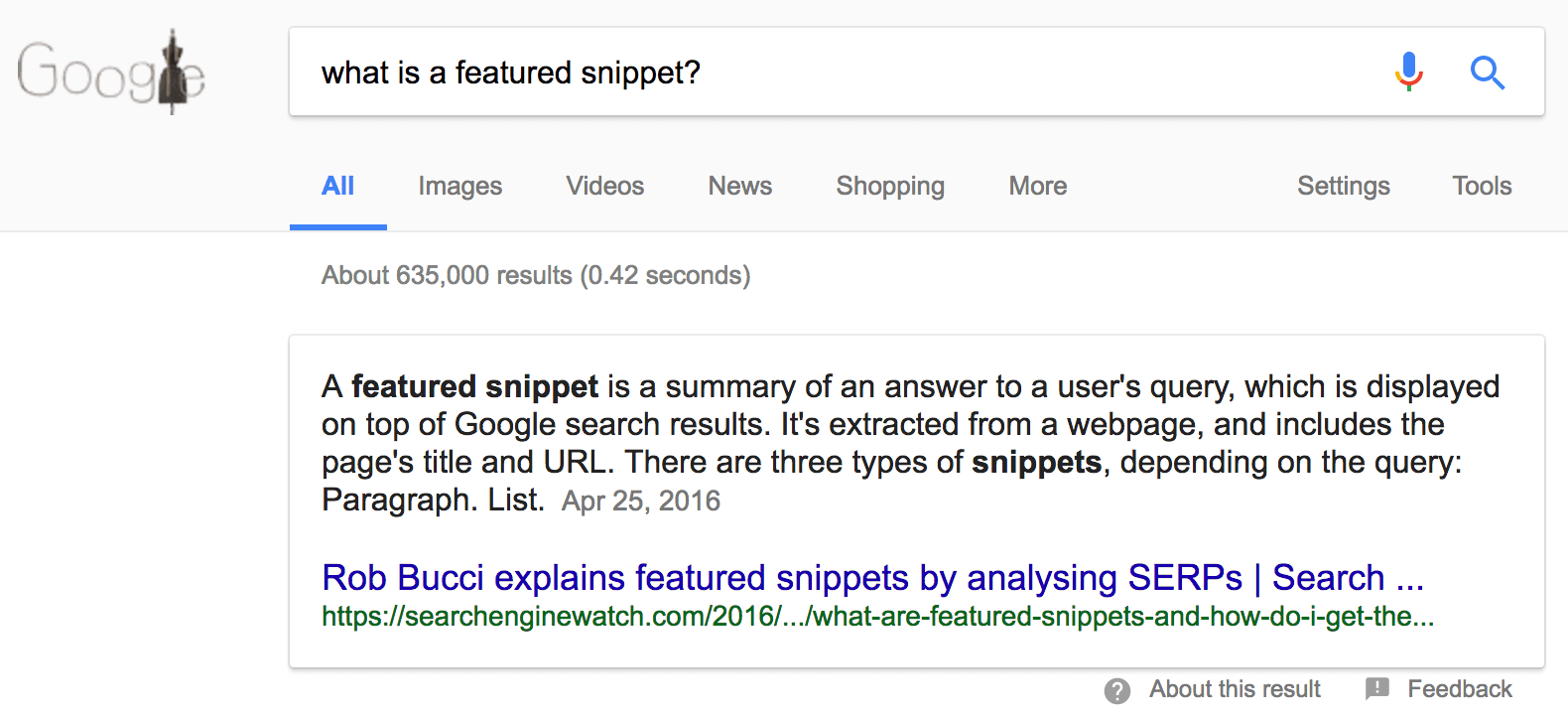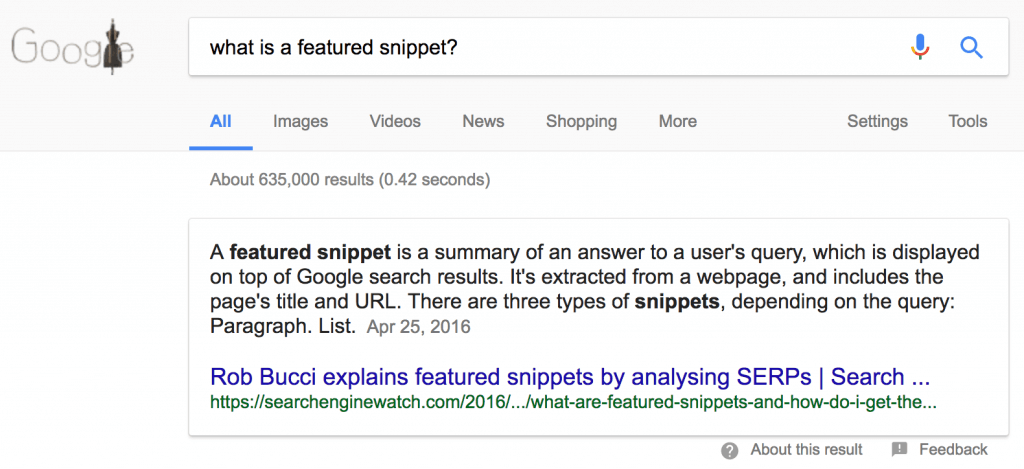 The Featured Snippet results remove the need to even click through to a webpage, delivering the answer to a searcher instantly. This is particularly useful within mobile search and they appear in over 15% of all results pages (source). Google has also recently launched their job search section that removes the need to browse multiple job board sites when looking for a new position. Instead, users can search within Google for jobs and see lists of all those available across multiple job boards directly within Google.
Convenience
Instant access isn't all we demand. Convenience plays an equally important role in the decision-making process. The past 4-5 years have created an abundance of convenience-driven services that have become staples in our lives. Let's take Lyft as an example. Gone are the days of having to hail a cab, explain where you need to go (even if you've never been there before) and have no idea how much you're going to end up paying for your journey. Now, you can open the Lyft app, type in your destination and have a driver come and pick you up from your exact location. You don't even need cash because it'll be charged directly from your credit card.
Very convenient.
The next couple of years are going to see us completely remove the driver from this equation. Uber has already tested autonomous cars within a number of cities in the US, and the competition is following suit. Apps like Uber and Lyft have now become an indispensable part of our lives. I took a regular cab a few weeks ago for the first time in months and it was like I traveled back in time.
It's not just our travel that's become a lot more convenient. With the introduction of Apple Pay and Google Wallet, we've moved our wallets into our smartphones now as well. Making payment can be done by simply hovering your smartphone over a POS device – incredibly convenient. Not only has this taken off for 'brick-and-mortar' stores, but huge volumes of websites and apps have integrated Apple Pay into their checkout systems. No more scrambling to find your debit card to purchase something; you can now just use your fingerprint.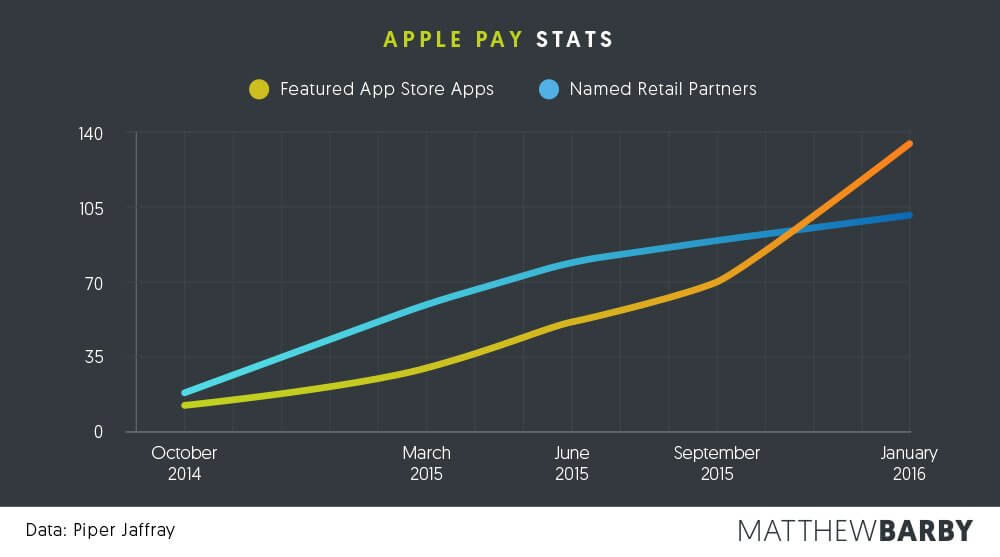 This provides a simple and effortless experience for the consumer, whilst the companies selling products online using Apple Pay are seeing massive gains in conversion rates. In fact, Jack Threadz, a US online fashion retailer, recently found that customers using Apple Pay to checkout via their website were 92% more likely to complete their transaction.
One of the other industries that have been most affected by the rising demand for convenience is the food industry. Companies like Instacart have been disrupting the on-demand food delivery space, offering grocery deliveries from your local stores within 2 hours. That's pretty incredible, though not nearly as incredible as its latest $400 million funding round that puts the company at a $3.4 billion valuation.
Natural Machines, a startup based out of Barcelona, is looking to take this a step further with their food 3D printing product, Foodini. Yes, you read that correctly, they're 3D printing edible food. If that's not the pinnacle of convenience right now, then I don't know what is.
Oh, and if all this wasn't enough for us, we now don't even want the hassle of having to type the demands we have into a device. We have products like Amazon's Alexa, Google Home or Siri so that we can just shout our needs from across the room and not have to experience the hardship of moving our thumbs across our smartphone screen. And if you thought this was just a fad, think again. Recent studies show that in Q4 of 2016, 12% of US broadband households adopted a voice assistant.
Data
The trade-off for instant access and unrivaled convenience is the sharing of your data. When I talk about data, I'm not just referring to your name, phone number and email address, I'm talking about all aspects of your life. Let me just break down some of the data that each of us is handing over when we use each of these popular services:
Instacart: what you eat, the brands you tend to buy, where you shop and how frequently you do it.
MyFitnessPal: your health levels, general diet, the brands of food that you eat, plus the times of the day that you tend to eat.
Fitbit: everywhere that you travel on foot, including any regular journeys that you make and at what times you make them.
Uber: your daily commute, frequent locations that you visit and when you leave to go on holiday.
Apple Pay: which items your regularly purchase, where you make those purchases and how much you typically spend each day/week/month.
Amazon Alexa: the way that you speak and how/when you typically ask for things.
Netflix: what you like to watch, when you typically watch it and which types of visuals tend to trigger you to take an action.
Nest: when you're at home, when you tend to leave each day and how much energy you use.
Facebook: what you're interested in, who you're friends with, what you read… pretty much everything about you as a person!
Now, it's certainly not uncommon for one person to use all of the above services. When you then think about the 'joining' of these various data points together, it paints a very clear picture of all aspects of the consumer's life right now, and more importantly, helps predict what they'll do/need next.
Ultimately, the goal is to know what you want, when you want it and how you want it, before you do.
Simple examples of this are entering into our lives already. Take Google Inbox, the latest iteration of the Gmail product, as an example. Google has been using neural networks to power their Smart Replies feature that gives you automated suggestions on responses to your emails. Evidently, their users find this feature very useful because over 10% of all emails sent from the Google Inbox app are powered by Smart Replies.
Grammarly, a popular spell-checking app, just raised $110 million in their latest round of funding. If you think it's so that they can simply make a better spell-checker, you're sorely mistaken. Grammarly, like many others in this space, is investing in improving their natural language processing capabilities by getting access to enormous volumes of data from their users. Every email, document and blog post that they help spell-check for you is used to help them understand the way that people write so that they can feed this data into their machine learning algorithms and improve their NLP technology. It's no wonder that Google has blocked Grammarly's Chrome extension from spell-checking in Google Docs.
I haven't even started to discuss the recent rise in popularity of chatbots that are doing a similar thing. For any of you that regularly read the articles that I publish on my blog or that have seen me speak at an event, you'll likely know that I have my own chatbot that I use to engage with my subscribers. One of the benefits that this gives me is that I can automate the process of getting feedback on what my followers want to hear more about, or how they've rated the things that I've produced – I think of it as another source of keyword research.
How to Adapt
Failing to adapt to the changing demands of consumers can have devastating consequences for your business. Your goal should be to solve the consumer's problem instantly, within the environment that they choose. The days of simply funneling everyone back to your website is over. This whole approach was born out of a lack of sophistication from other channels, and a single-device experience for the user. With more and more experiences happening across a range of devices (mobile, desktop, tablet, etc.), and dramatic improvements to cross-channel reporting, consumers want to engage with brands in the setting that they choose.
There's a significant push from platforms like Facebook and Google to keep users within the walls of their product. Facebook has invested in their Instant Articles experience that loads content from external sites directly within the app, and Google has done the same with Accelerated Mobile Pages (AMP). Forcing someone out of these platforms to consume information makes it more likely that they will be lost altogether; this is why more and more larger brands are investing a lot of cash into creating native content.
Landing in Pools
Something that I've been talking about a lot recently is the idea that every marketing channel eventually suffers fatigue. This could be through rising costs from increasing competition in AdWords, hitting a ceiling of demand in organic search or even the platforms themselves squeezing the amount of value you're able to get – it's no secret that the average organic reach of a Facebook page has decreased from somewhere in the region of 16% in 2013 to less than 2% in 2017.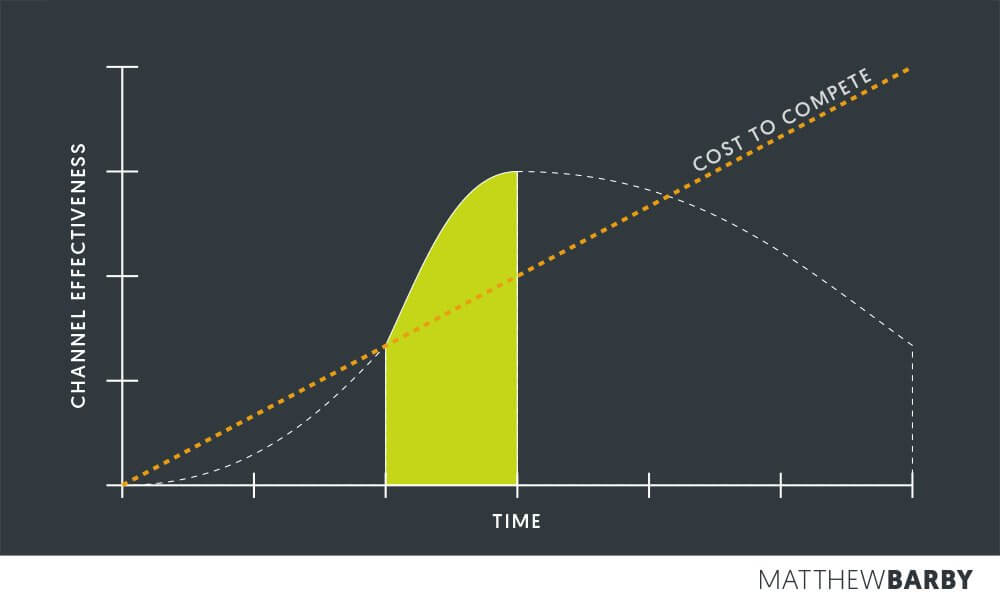 As someone focused on acquiring new customers, your goal should be to find existing pools of potential customers and then figure how you can effectively land within them. "Landing effectively" within these pools would consist of figuring out how you can deliver a positive experience for the user without requiring them to leave. A great example of a company that's doing this right now is Fomo, a social-proof tool aimed primarily at e-commerce companies. Fomo noticed that a lot of their customers used Shopify to host their e-commerce websites, so they built a Shopify app that could be listed within their marketplace.
With a native Shopify app, Fomo could be found and purchased by new customers that already had Shopify stores without ever having to leave the platform. As a result, Fomo now receives over 1,000 new paying customers each month from Shopify's app store alone.
Being an early adopter of new pools can pay off with even greater rewards. Just look at the growth of the Amazon Alexa 'skill' marketplace. In Q1 of 2016, there were just 135 third-party skills available. Fast forward to Q1 of 2017 and there are over 10,000. That said, some of the most popular skills have as little as 20 reviews, an important ranking factor within the marketplace. Not only that, but Amazon only allow free skills at this stage, so there's a whole lot more room for growth. This is a pool with huge potential right now.
For every high potential opportunity of early adoption, there are equally high risks. There are countless examples of new channels arriving and then quickly disappearing, leaving early adopters licking their wounds. Remember Meerkat? Google Plus?
Messaging is one hot new channel right now that has a range of pools within it. Companies are rushing to build their own chatbots and messaging applications, whilst many others have at least adopted live chat. The beauty of messaging is that it perfectly plays into the need for instant gratification and it doesn't require you to leave the environment that you're in. Ask a question within Facebook Messenger? You'll get the answer within Facebook Messenger. Request a meeting with a sales rep within Slack? You'll have the meeting booked within Slack. I'm firmly of the belief that messaging is going to dominate the marketing strategies of companies for at least the next 2-3 years.
My overarching advice for anyone reading this is to treat every channel that you rely on for growth as if it could cease to exist tomorrow. Search out new opportunities to diversify your acquisition strategy and make sure that above all else, you're able to keep up with the demand for instant and convenient solutions to the problems of your customers.